This week im running behind on my posts so please bare with that these arent seperated for what each boy did this week!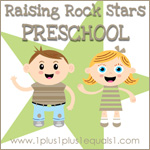 Our Theme was Letter H, Number 3, Sight Word "and", Color Blue, and Shape Triangles.
These were a few of the Tot School Trays this week for Dylan.
The left is a foam number puzzle, Then theres pom poms with a container and ice cube tray, Then our counting bear sorters, and Our Nesting Blocks.
This was the first time I gave him an ice cube tray with his pom poms and he loved it! He stayed busy with it for at least 30 to 40 minutes.
Austin made a Letter H house to go with our Letter of the Week.
Austin worked on his Preparing for Letter H tracing sheet.
Dylan worked wit his Nesting Blocks trying to build a tower.
Austin did a Do A Dot Letter H.
This week Dylan also wanted to do the Q-tips with the Parmesan Cheese Container!
We did a size sorting game with Hippos
We made Paper Hippos as well.
Austin worked on his tracing Letter H paper.
Then one day we had a little time left after our main school was done so Austin wanted to work on the Number Puzzle.
He cut and taped his bible verse together this week using our new Maped Scissors! ( Thanks Carisa for the Recommendation)
Did another Letter H tracing paper.
We had a great week! I just slacked on getting the post up!
Want to see what others did this week for school?
Tot School:
http://1plus1plus1equals1.blogspot.com/2010/08/tot-school.html
Preschool Corner:
http://homeschoolcreations.blogspot.com/2010/07/preschool-corner-lowercase-letter.html